PROCESSES OF FORGING COMPARISON
Conventional Extrusion Process
1| MELTING
Melting Furnace

Degas

Filter
2| DC Cast
3| Ultrasonic inspection
4| Homogenization
5| EXTRUSION
Scalping

Preheat

Extrusion

Press
6| Straighten & Cut
7| FORGING
Liquid Forging Process
1| MELTING
Melting Furnace
Degas
Filter
2| LIQUID FORGING
"A unique technique for casting light alloys which involves applying very high pressure to the material in its liquid state during the solidification phase".


"Quality, Versatility, Competitiveness"
The complete release of the air contained in the mold is ensured by the slow entry of the metal and specially made "airs".
The compaction of the metal during solidification allows the recovery of the desired shape considering the passage from the liquid state to the solid state.
Product density is higher than any traditional casting process (gravity or die casting) and equivalent to forging.
The fully automatic production cycle is guaranteed by the technical solutions adopted on the machine layout.
Cycle time much lower than Squeeze Casting (ratio 1:2.5)
• Structural integrity.
• Absence of porosity
• Tighter dimensional tolerances than hot forgings.
• Possibility of carrying out thermal treatments.
• Excellent micro-structure, for rapid solidification following forced cooling of the mould.
• Suitable for all types of light alloys, including magnesium (6082, 7075, 2014.0 A356, AlSi4.5, AlSi9, Magsimal, Silagont…).
• Possibility of producing pieces with inserts.
• Possibility of obtaining complex geometries.
• Possibility of producing pieces weighing from 40g up to 10 kg.
• THERE IS NO WASTE!
• The right amount of liquid metal becomes the part.
• Possibility of creating multi-figure molds with substantial reductions in cycle time.
• Possibility of having different shapes in the same mould.
• Cost located between the gravity casting and die casting.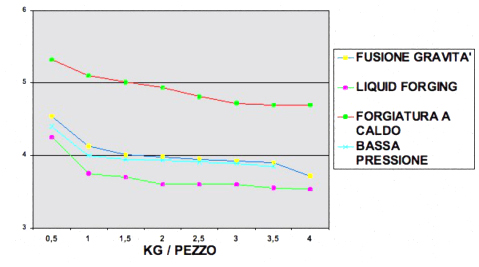 The cost of Liquid Forging is lower than that of gravity casting, offering better qualitative and mechanical characteristics and higher productivity.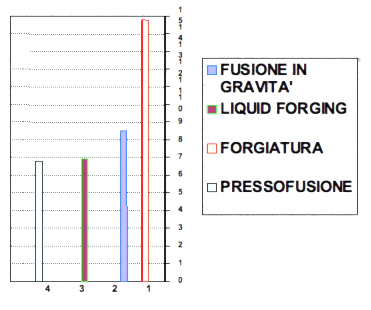 The comparison illustrates the cost in euro of the part made for Volvo in the various technologies. Bear in mind the higher costs for Die Casting, Gravity and Low Pressure due to 100% impregnation, or a variable scrap from 6 to 20%.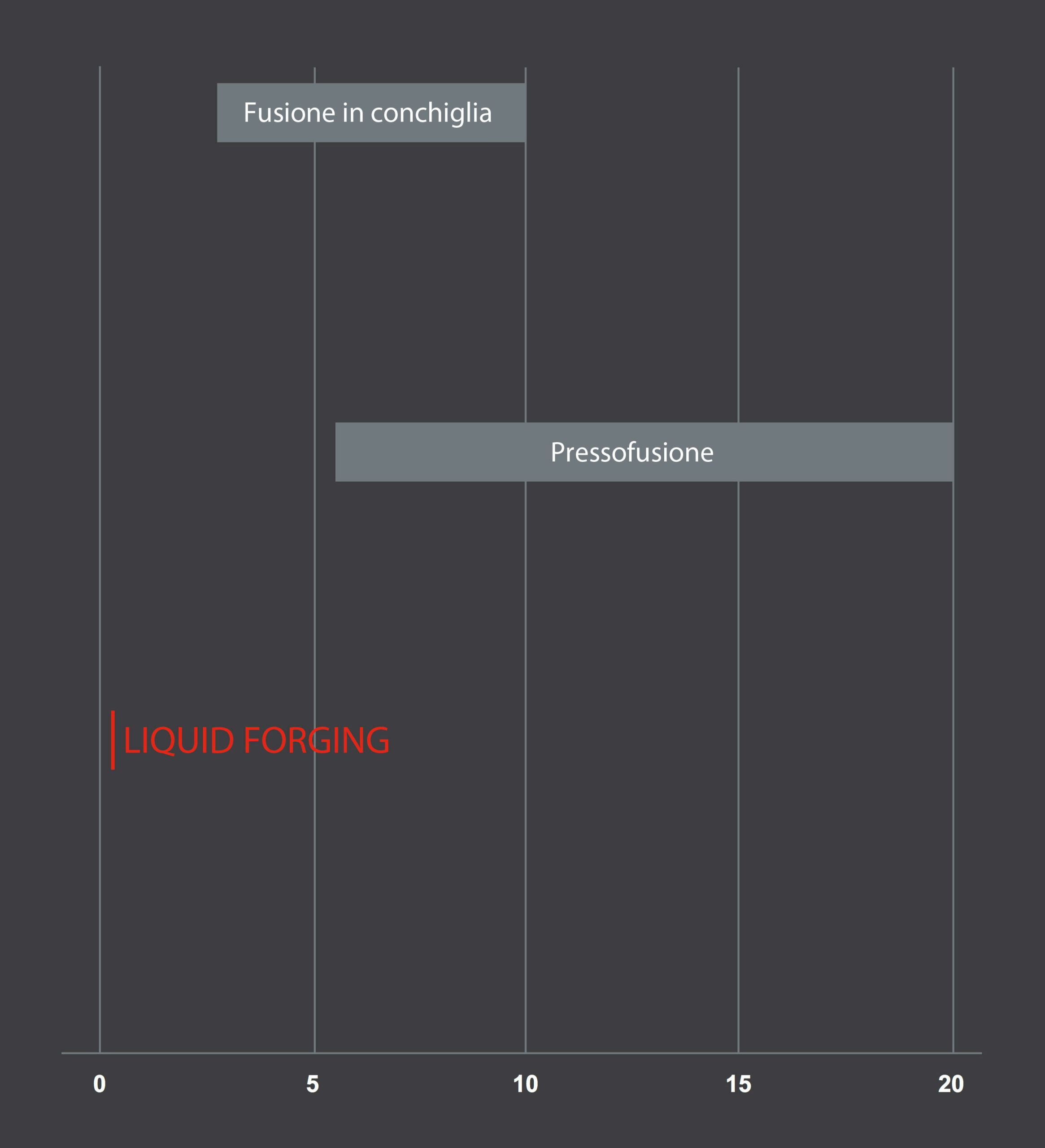 Percentage of porosity of the different technologies.
The x-ray images illustrate the compactness of the Volvo transfer case, the absence of porosity, microporosity, blowholes, cracks and crystallizations (characteristics common to the entire production batches).
The microstructure at the surface of the casting is very fine, due to the very rapid cooling of the liquid.
The interdendritic eutectic solidification microstructure is finely modified.
The heart structure has a high dendritism, with average DAS values ​​of about 18 µm, an index of rapid cooling.
The hardness of the material is equal to 64.5 ÷ 67.5 HBW5/250, consistent with the lack of heat treatment of the alloy. 3 cylindrical specimens (L0=5xdiameter) were taken from the casting and subjected to a tensile test according to the manufacturer's standard.
The material is characterized by a minimum elongation value comparable to that envisaged for the same semi-solid cast alloy (thixoforming), according to tab. 53231. From the casting were also made 5 test tubes of Charpy resilience without carving; the test (carried out according to tab. 50130) produced values